Anime Film 'Komada - A Whisky Family' Set to Release in November 2023 with P.A. Works as Animation Production
Anime Film 'Komada - A Whisky Family' Set to Release in November 2023 with P.A. Works as Animation Production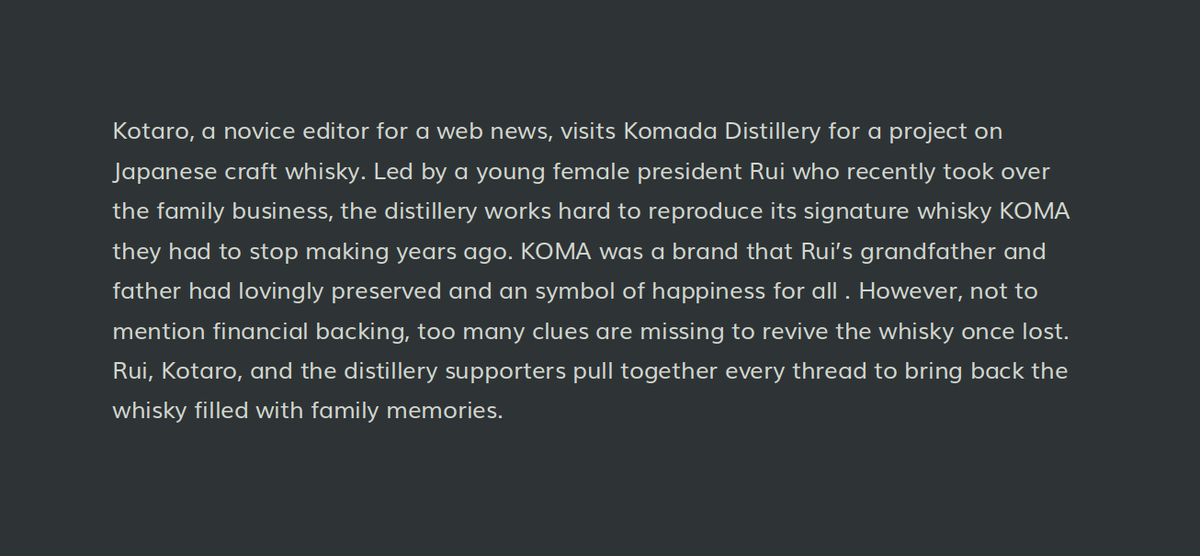 Japanese animation studio P.A. Works has announced a new original anime film titled "Komada - A Whisky Family", set to release in November 2023. The studio has released a teaser visual and trailer, with English subtitles, giving fans a glimpse of what to expect from the upcoming film.
The cast for "Komada - A Whisky Family" has also been revealed, featuring Saori Hayami, Kensho Ono, Maaya Uchida, and Yoshimasa Hosoya. The director for the film is Masayuki Yoshihara, with the script written by Yukito Kizawa and Muneo Nakamoto. The original character design is by Tomomi Takada, while Kosuke Kawatsura serves as the character design and chief animation director. Tatsuya Kato is responsible for the music.
The film's synopsis, as provided by GAGA International, tells the story of a family that has been producing whisky for generations. The Komada family has a long-standing tradition of making the finest whisky in Japan, and their product has become world-renowned. However, the family's youngest member, a girl named Rin, has no interest in continuing the family business. Instead, she dreams of becoming a musician, leaving her grandfather to find a way to convince her to take over the family legacy.
The teaser trailer offers a glimpse into the film's stunning animation, which captures the beauty of the Japanese countryside and the process of whisky-making. The film promises to be an emotional journey, exploring themes of family, tradition, and pursuing one's dreams.
Fans of P.A. Works' previous works, such as "Angel Beats!" and "Hanasaku Iroha", are eagerly anticipating the release of "Komada - A Whisky Family". The studio is known for its high-quality animation and compelling storytelling, and this film is sure to be no exception.
"Komada - A Whisky Family" is set to release in Japan in November 2023, with no word yet on an international release. Fans can keep up with the latest news and updates on the film's official Twitter account.
Source - Youtube Video, Official Twitter, Official Twitter, Youtube Video, Official Twitter