Production I.G. to Adapt The Concierge at Hokkyoku Department Store Manga into Anime Film for Fall Release
Production I.G. to Adapt The Concierge at Hokkyoku Department Store Manga into Anime Film for Fall Release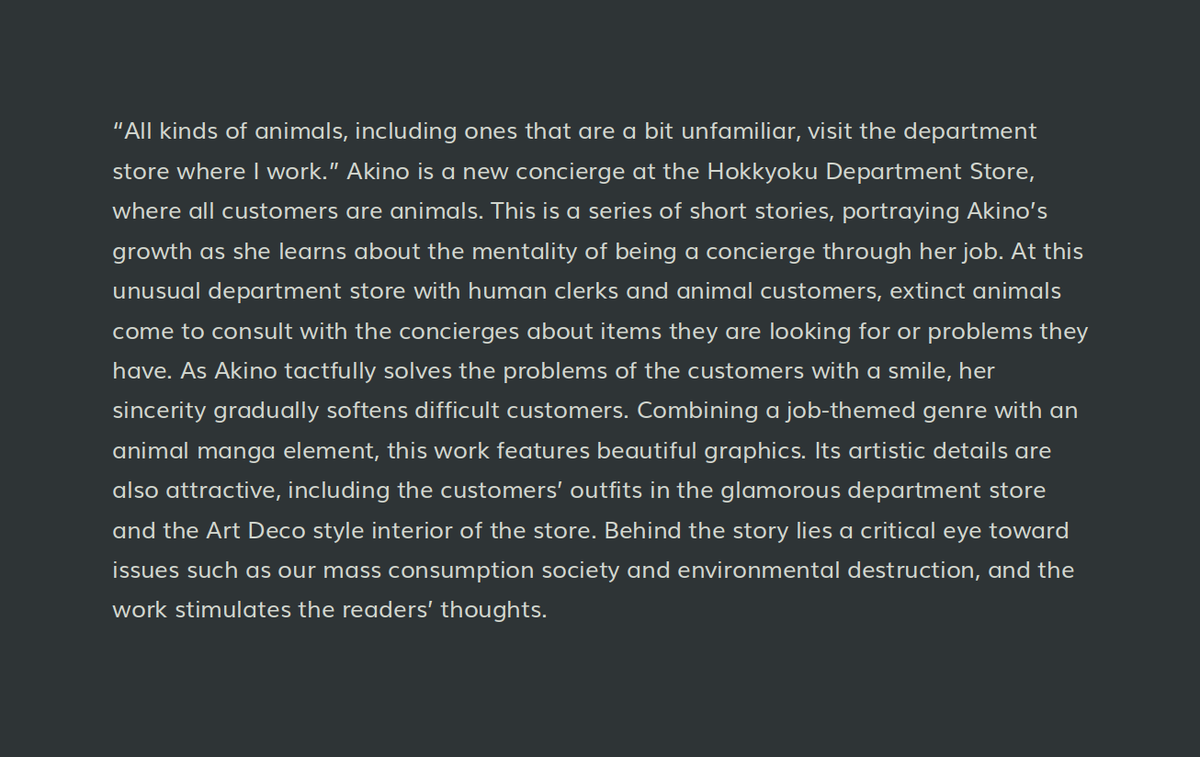 The highly-anticipated anime film adaptation of "The Concierge at Hokkyoku Department Store" has been announced for a fall debut in Japan. The animation production will be handled by Production I.G., with Yoshimi Itazu as the director and Satomi Oshima as the screenwriter.
The announcement was made on the official Twitter account of Hokkyoku Department Store, which also shared a teaser visual for the upcoming film. Fans of the manga series were thrilled to hear the news and are eagerly awaiting the release of the film.
"The Concierge at Hokkyoku Department Store" is a manga series that won the Excellence Award in the Manga Division of the Japan Media Arts Festival. The manga's outline was shared on the festival's website, giving fans a glimpse of what to expect from the film.
The story follows the life of a concierge working at the Hokkyoku Department Store, who is tasked with helping customers with their various needs and requests. The concierge is known for his exceptional customer service skills and is highly respected by both customers and colleagues.
The manga's unique storyline and charming characters have won over fans across Japan, and the upcoming film adaptation is expected to be a major success.
Production I.G. is a well-known animation studio that has produced many popular anime series and films, including "Attack on Titan" and "Ghost in the Shell." With such a talented team working on the project, fans can expect high-quality animation and an engaging storyline.
Yoshimi Itazu, who previously worked on "Miss Hokusai," is an experienced director who is known for his ability to bring out the best in his characters. Satomi Oshima, the screenwriter, has also worked on many successful anime series, including "K-On!" and "Laid-Back Camp."
The teaser visual shared on Twitter shows the concierge standing in front of the Hokkyoku Department Store, surrounded by colorful autumn leaves. The image perfectly captures the warm and inviting atmosphere of the manga series and has already generated excitement among fans.
With the fall release date fast approaching, fans of "The Concierge at Hokkyoku Department Store" can hardly contain their excitement. The film is sure to be a hit with audiences across Japan and beyond, and will undoubtedly introduce even more people to the charming world of the Hokkyoku Department Store.
Source - Official Website, Official Twitter