As a Reincarnated Aristocrat Light Novel Series Gets TV Anime Adaptation by Studio MOTHER with Main Cast Revealed and Staff Announced
As a Reincarnated Aristocrat Light Novel Series Gets TV Anime Adaptation by Studio MOTHER with Main Cast Revealed and Staff Announced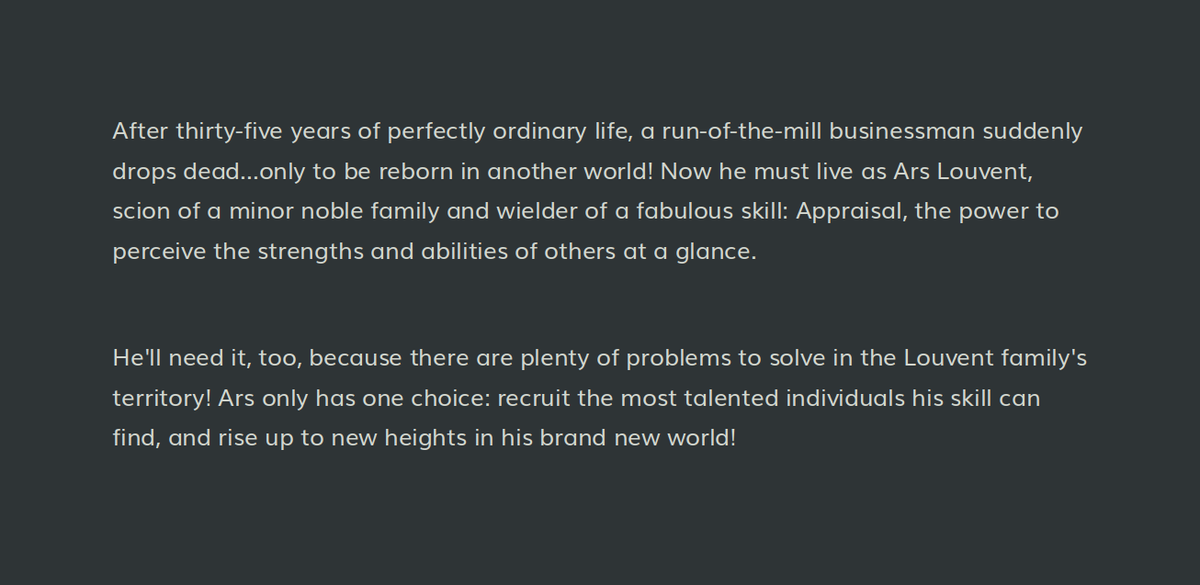 The popular light novel series "As a Reincarnated Aristocrat, I'll Use My Appraisal Skill to Rise in the World" is getting a TV anime adaptation next year. The animation production will be handled by studio MOTHER.
The news was announced on Twitter, along with a key visual and a promotional video. The PV features the main cast and gives a glimpse of the world and the story.
The story follows Ars Louvent, a young man who dies and is reincarnated in a fantasy world as a member of an aristocratic family. He has a unique skill called "Appraisal," which allows him to identify the properties of objects and people. With this skill, he plans to rise in the world and become a successful adventurer.
The main cast includes Natsumi Fujiwara as Ars Louvent, Taito Ban as Rietz Muses, Narumi Kaho as Charlotte Lace, and Miho Okasaki as Rosell Kischa.
The light novel series is published by Kodansha USA and has been well-received by fans. It has a rating of 4.5 on Goodreads and has been praised for its unique premise and engaging characters.
The TV anime will be directed by Takao Kato, known for his work on "To Love-Ru" and "Upotte!!." The series composition will be handled by Yasuhiro Nakanishi, who has worked on "My Hero Academia" and "Fruits Basket." The character design will be done by Yuko Yahiro, who has worked on "Diabolik Lovers" and "The Seven Deadly Sins."
The sound director will be Toshiki Kameyama, who has worked on "Darling in the Franxx" and "Re:Zero." The music will be composed by Kujira Yumemi, who has worked on "The Rising of the Shield Hero" and "Kemono Friends."
Fans are excited about the upcoming adaptation and are looking forward to seeing their favorite characters come to life on screen. The release date for the TV anime has not been announced yet, but more information is expected to be revealed soon.
Source - Official Twitter, Official Website, Official Twitter, Youtube Video, Official Twitter