Atelier Ryza: Ever Darkness & the Secret Hideout Anime Series to Begin Broadcasting on July 1 with New Key Visual and Opening Theme Song Golden Ray by Sangatsu No Phantasia
Atelier Ryza: Ever Darkness & the Secret Hideout Anime Series to Begin Broadcasting on July 1 with New Key Visual and Opening Theme Song Golden Ray by Sangatsu No Phantasia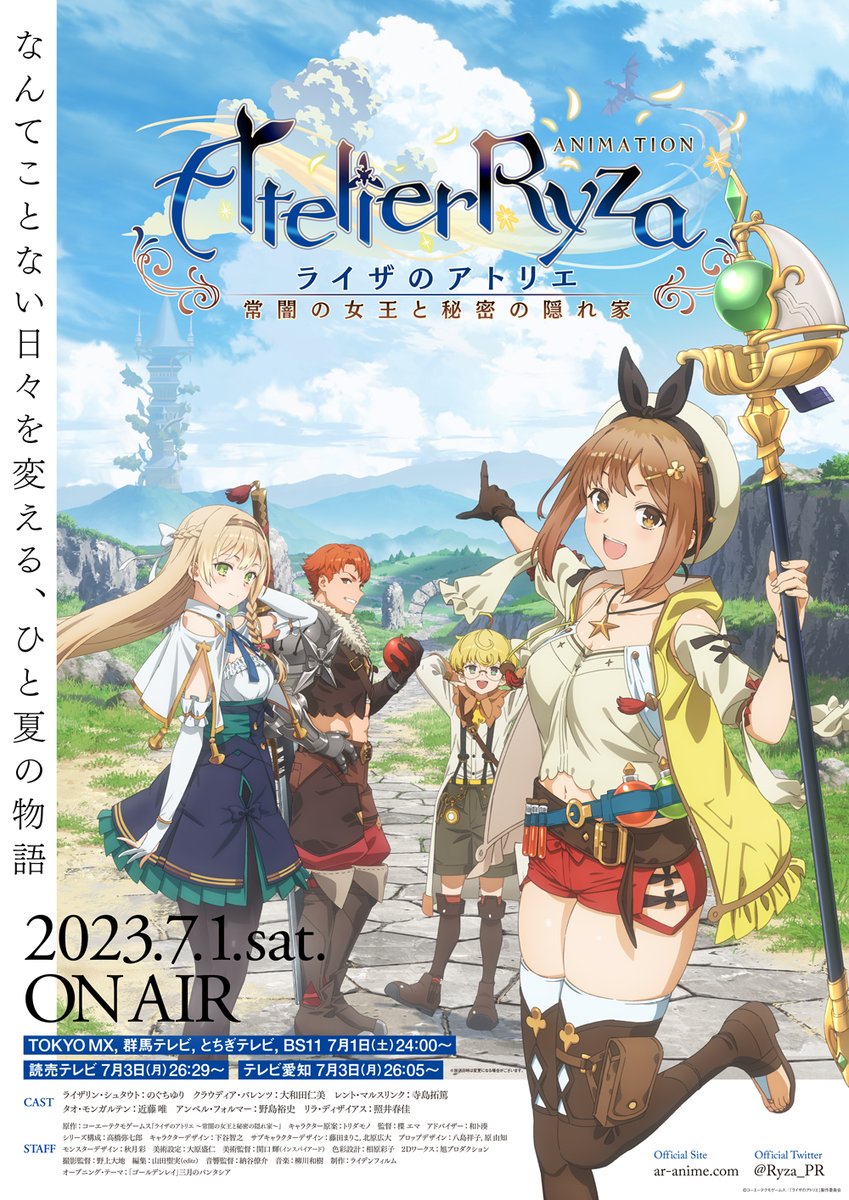 LIDENFILMS' highly anticipated anime series "Atelier Ryza: Ever Darkness & the Secret Hideout" is set to begin broadcasting on July 1st. Fans of the popular video game franchise will finally get to see their favorite characters come to life on the small screen.
The anime series is based on the fourth installment of the "Atelier" game series, which was released in 2019. The game follows the story of a young alchemist named Ryza, who dreams of exploring the world outside her small village. Together with her friends, she embarks on a journey to discover the secrets of alchemy and uncover the mysteries hidden in the world.
The new anime series promises to stay true to the game's storyline and characters, while also adding new elements to keep fans engaged. The studio has released a new key visual and promotional video, which give fans a glimpse of what they can expect from the series.
In the promotional video, viewers get to see Ryza and her friends in action, as they battle monsters and explore new areas. The animation looks crisp and vibrant, and the character designs are faithful to the game's original artwork.
The opening theme song, "Golden Ray" by Sangatsu No Phantasia, is also featured in the promotional video. The song has a catchy melody and upbeat tempo, which fits perfectly with the anime's adventurous tone.
Fans of the "Atelier" game series have been eagerly anticipating the anime adaptation, and the studio seems to have delivered a product that will please both old and new fans alike. The anime series is expected to be a hit, and fans are already counting down the days until its premiere.
"Atelier Ryza: Ever Darkness & the Secret Hideout" will be available to watch on various streaming platforms, including Crunchyroll and Funimation. Fans can also purchase the Blu-ray and DVD releases when they become available.
Overall, the anime adaptation of "Atelier Ryza" looks like it will be a fun and exciting adventure, filled with memorable characters and stunning visuals. Fans of the game series will not want to miss this new chapter in Ryza's journey.
Source - Youtube Video, Official Twitter