Demon Slayer: Kimetsu no Yaiba unveils new key visual for Swordsmith Village Arc after episode 7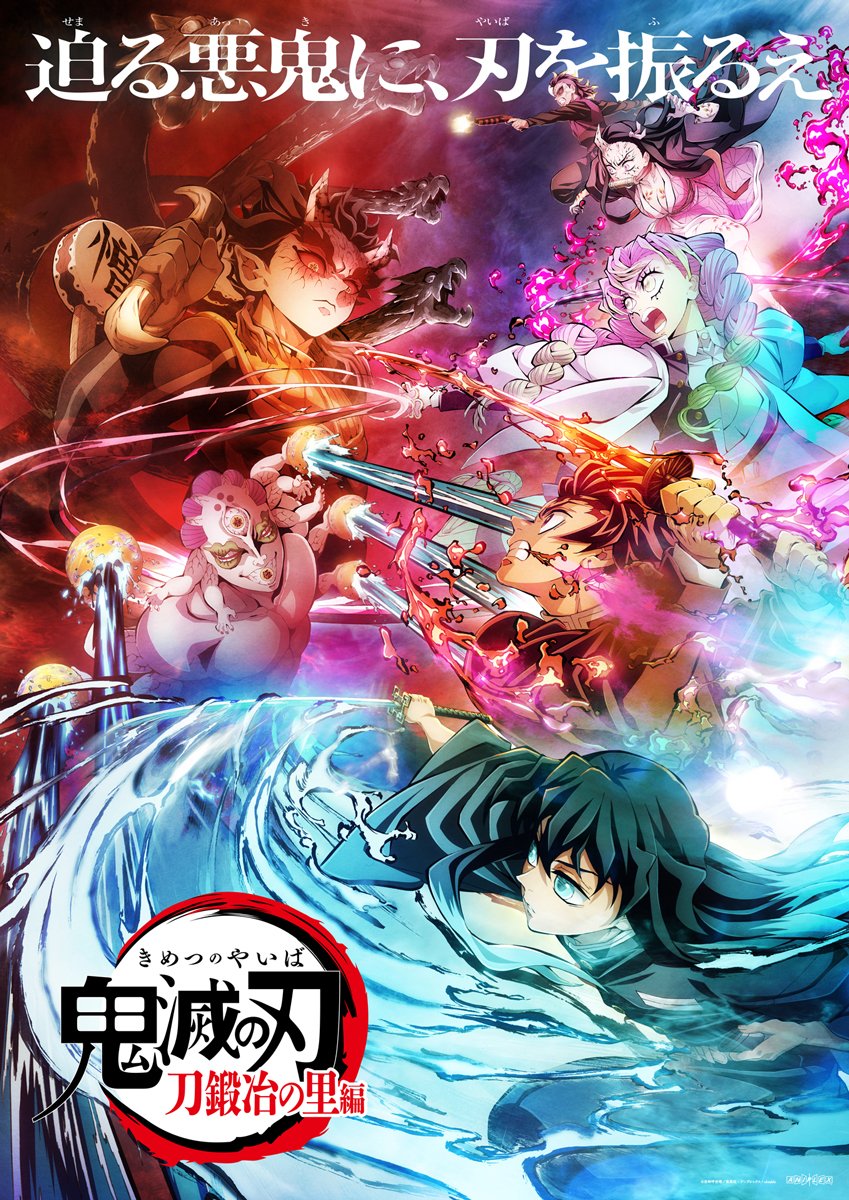 The popular anime series "Demon Slayer: Kimetsu no Yaiba" has released a new key visual for its upcoming "Swordsmith Village Arc". The visual was revealed after the airing of episode 7 of the series.
The new key visual features the main character, Tanjiro Kamado, along with his sister Nezuko and his allies Zenitsu and Inosuke. They are seen standing in front of a traditional Japanese building with a beautiful mountainous landscape in the background. The visual also showcases some new characters who will be introduced in the upcoming arc.
The Swordsmith Village Arc is the next major story arc in the Demon Slayer series. It is based on the manga chapters 53 to 66 and will focus on Tanjiro and his friends as they travel to a village where the best swords in Japan are made. They hope to find a way to repair Tanjiro's broken sword and to learn more about the demon slayer corps.
The new arc promises to be action-packed and full of new challenges for the characters. Fans of the series are eagerly anticipating the new episodes and are excited to see how the story will progress.
"Demon Slayer: Kimetsu no Yaiba" has become one of the most popular anime series in recent years. It is based on the manga series of the same name by Koyoharu Gotouge and has been adapted into an anime by studio Ufotable. The series follows the story of Tanjiro Kamado, a young boy who becomes a demon slayer after his family is killed by demons and his sister is turned into one.
The series has been praised for its animation, storytelling, and character development. It has also been a commercial success, with the manga series selling over 100 million copies worldwide and the anime series becoming the highest-grossing anime film of all time in Japan.
The Swordsmith Village Arc is expected to be another hit among fans of the series. The new key visual has already generated a lot of buzz on social media, with fans sharing their excitement for the upcoming episodes.
The next episode of "Demon Slayer: Kimetsu no Yaiba" will air on May 21st and will be titled "Mugen Train Arc: The Endless Dream". It will be a recap episode that will summarize the events of the previous arc before the start of the Swordsmith Village Arc.
In conclusion, the new key visual for the Swordsmith Village Arc of "Demon Slayer: Kimetsu no Yaiba" has been revealed, and fans are eagerly anticipating the upcoming episodes. The series has become a cultural phenomenon and continues to captivate audiences with its stunning animation and compelling storytelling.
Source - Official Twitter