IDOLiSH7: LIVE 4bit BEYOND THE PERiOD Releases Encore Visual to Celebrate Successful Opening in Japan
IDOLiSH7: LIVE 4bit BEYOND THE PERiOD Releases Encore Visual to Celebrate Successful Opening in Japan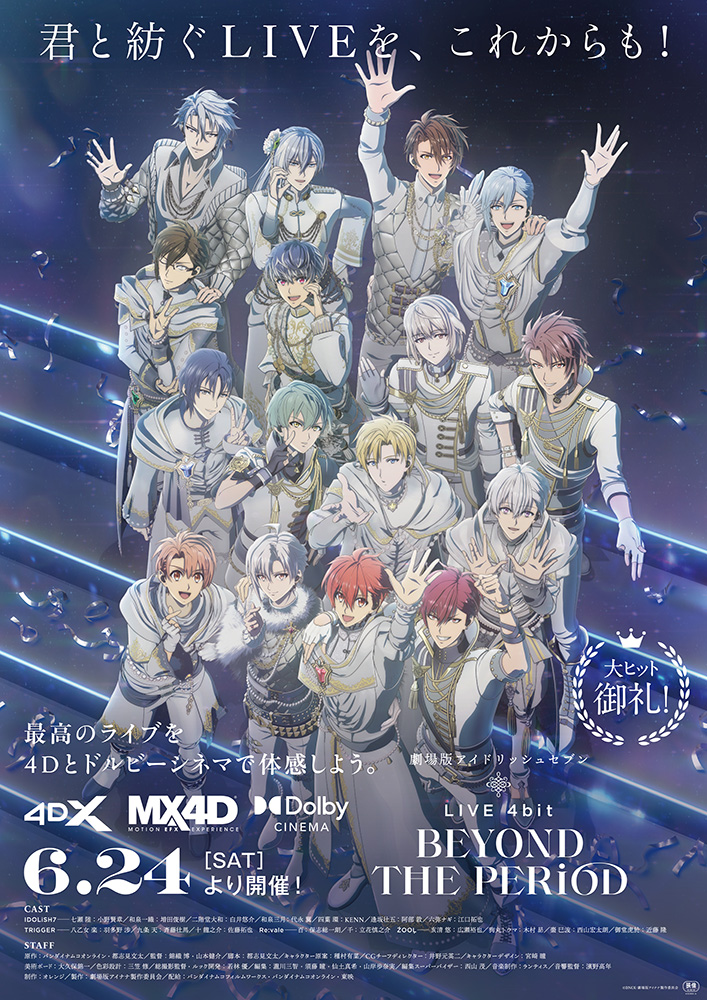 Theatrical anime concert "IDOLiSH7: LIVE 4bit BEYOND THE PERiOD" has released an 'encore visual' to celebrate its successful opening in Japan. The concert, which features the popular virtual idol group IDOLiSH7, has been a hit with fans since its debut on June 12.
The 'encore visual' showcases the seven members of IDOLiSH7 in their signature outfits, striking poses against a colorful background. The visual was released on the official Twitter account for the concert, along with a message thanking fans for their support.
Starting June 24 in Japan, there will be Dolby Cinema, 4DX, and MX4D screenings available for both the & version. Fans who missed the initial screenings will have another chance to experience the concert in a variety of immersive formats.
IDOLiSH7 is a popular virtual idol group that was first introduced in a mobile game of the same name. The group consists of seven members, each with their own unique personality and talent. The group has released several singles and albums, and has also appeared in anime and manga adaptations.
The "IDOLiSH7: LIVE 4bit BEYOND THE PERiOD" concert features a mix of live performances, animated sequences, and dramatic scenes. The concert is designed to give fans a more immersive experience of the world of IDOLiSH7, and to showcase the group's talent and charisma.
Fans who have seen the concert have praised its high-quality production values, energetic performances, and emotional storytelling. Many have also expressed their excitement for the upcoming screenings, which will allow them to experience the concert in a new way.
The success of "IDOLiSH7: LIVE 4bit BEYOND THE PERiOD" is a testament to the enduring popularity of virtual idols in Japan and around the world. With its catchy music, engaging characters, and stunning visuals, the concert is sure to continue to attract fans for years to come.
Source - Official Twitter