KamiKatsu: Episode 8 Postponed to May 31 Due to Unforeseen Circumstances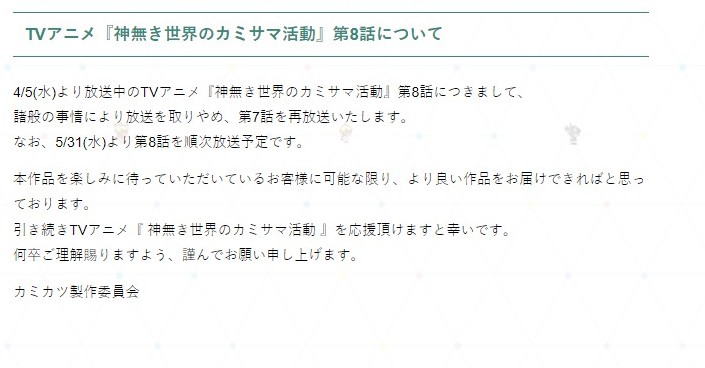 Fans of the anime series "KamiKatsu: Working for God in a Godless World" will have to wait a little longer for the next episode. The official Twitter account for the series announced that episode 8, which was scheduled to air on May 24, has been postponed to May 31 due to "various circumstances."
The announcement was made on May 19, just a few days before the episode was set to air. The tweet did not provide any further details about the reasons for the delay, but fans were disappointed nonetheless.
To make up for the delay, the tweet also announced that this week's broadcast would be a rebroadcast of episode 7. This will give fans a chance to catch up on the series or revisit their favorite moments from the previous episode.
"KamiKatsu: Working for God in a Godless World" is a fantasy anime series that follows the adventures of Katsu, a young man who works for the gods in a world where they have been forgotten by most people. The series has gained a following for its unique premise and engaging characters.
The delay of episode 8 is not uncommon in the world of anime. Production schedules can be unpredictable, and delays can happen for a variety of reasons, including technical issues, scheduling conflicts, or even health concerns for the staff.
Fans of "KamiKatsu" have expressed their disappointment on social media, but many have also expressed understanding and support for the creators and staff of the series. They have also expressed excitement for the upcoming episode and the continuation of the story.
The delay of episode 8 may be disappointing, but fans can take comfort in the fact that the series will continue and that the creators are taking the time to ensure the best possible quality for each episode.
"KamiKatsu: Working for God in a Godless World" episode 8 will now air on May 31, and fans can tune in to see what adventures await Katsu and his friends in this unique and engaging series.
Source - Official Twitter